Эта вакансия уже завершена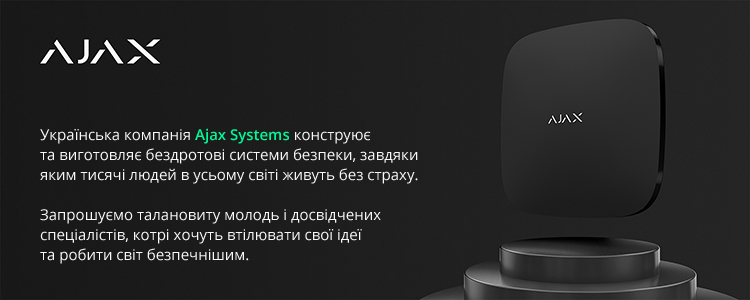 We are a full-cycle company, from R&D to mass production to global distribution. There are 70+ devices in the Ajax line: they protect the premises from robbery, fire, flooding and provide an opportunity to control electrical appliances. Our company is a Ukrainian success story, a place of incredible strength and energy.Today, Ajax protects more than 1,800,000 users in 170 countries around the world. Ajax has been awarded Europe's highest security awards. We have 3 full cycle production location in Ukraine and Turkey and have plans to extend it worldwide.
Our company is actively developing, so we are opening new position of Head of Quality Management for all our production premises in and out Ukraine.

Goals and responsibility:
Creation and provision of a general quality strategy, formation of an appropriate culture in the company.
Organization and coordination of building/improving the quality system in accordance with the requirements of ISO 9001.
Analysis of existing, development and implementation of processes of testing and evaluation of quality standards at the enterprise.
Analysis and improvement of existing quality KPIs. Establishing the process of monitoring product quality, creating measures to achieve target indicators.
Development and implementation of efficient, modern practices in quality management.
Quality department management (ISO and audit, supplier inspections, incoming material control, quality control in production).
Ensuring regular reporting
Carrying out inspection control of suppliers and materials during shipment. Creation of the regulation and system of audits.
Carrying out incoming control of materials. Organization of complaints to suppliers. Work with the selection of suppliers.
Evaluation of production operations at the strategic level.
Control over the work of production units in terms of compliance with technological discipline and quality standards.
Conducting random inspections of products in production and conducting control unpacking of finished products.
Organization of R&D of corrective measures in case of detection of deviations, systematic improvement of warning processes.
Supervising dealing with complaints. Contingency plan and measures development
Participation in launching new products, from idea to serial production.
Conducting internal and external audits.
Work with state bodies of control, standardization and certification.
Successful completion of external audits of certification bodies and partner audits.
We promise:
Fast-growing business that stimulate for new solutions and approach
Broaden horizon in professional sphere
Opportunity to implement large-scale projects and improvements on strategic level
Space for manoeuvres in developing and implementing solutions
Zero bullshit culture
Start up spirit and transparency, result orientation and quick decision path
Support with abroad business trips
We offer:
Ajax Security System Kit for use
Free professional specialized workshops, courses
Full time employment with Diya City perks
Ajax Systems - компанія розробник та виробник розумних систем безпеки
больше 500 сотрудников
с 2012 года на рынке
Курсы иностранного языка

Скидки сотрудникам

Компенсация обучения

Гибкий график
Похожие вакансии по городам:
Похожие вакансии по профессиям: