Ця вакансія вже завершена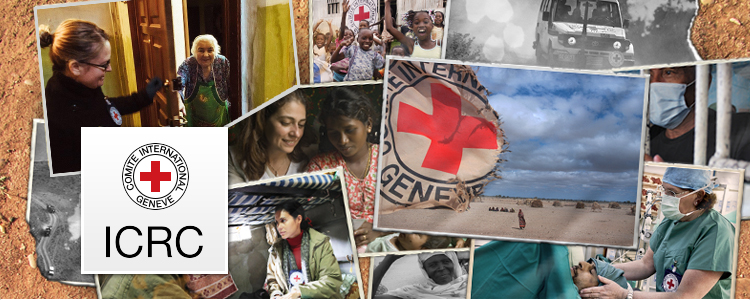 The International Committee of the Red Cross (ICRC) is an impartial, neutral and independent organization whose exclusively humanitarian mission is to protect the lives and dignity of victims of armed conflict and other situations of violence and to provide them with assistance. The ICRC also endeavors to prevent suffering by promoting and strengthening humanitarian law and universal humanitarian principles. Established in 1863, the ICRC is at the origin of the Geneva Conventions and the International Red Cross and Red Crescent Movement. Please visit www.icrc.org for more information. In 2014 and recently, the ICRC expanded its presence in Ukraine. There are more than 600 ICRC staff working in Kyiv, Donetsk, Luhansk, Dnipro, Poltava, Lviv, Odesa and Vynnytsia.
Vacancy Notice
The ICRC Delegation seeks to fill the following positions
Movement Cooperation Officer
Based in Poltava
AIM OF THE POSITION
Movement Cooperation Officer contributes to developing and implementing the delegation's objectives for cooperation with the Ukrainian Red Cross Society (URCS), in line with the ICRC's Movement policies and in consultation with the URCS. Supports the URCS in assessing and analyzing its capacities, and in formulating and implementing joint assistance programs and development/capacity building activities in particular towards branch development objectives
CORE RESPONSIBILITIES
Contributes to the development of the partnership skills of the delegation and URCS, including:
providing additional accompaniment and technical support to ICRC departments (Access to Education, Protection, Economic Security, Logistics, etc.) and corresponding Ukrainian Red Cross Society (URCS) interlocutors to better support them in further changing mindset and practice towards a real and strong partner -to-partner relationship between the two institutions.
Provides extensive support to the URCS organizational and operational development, including investing further in the URCS branch and volunteer development, notably through:
Working closely with the Danish RC to make sure that policies and good practice developed at HQ level on volunteer development are disseminated and applied at the branch level, in eastern and southern UA.
Accompanying the process of reinforcing the HVNS, including increasing the number of beneficiaries and looking at making the service more sustainable, in coordination with the Swiss Red Cross.
Supporting the URCS in putting together its contingency plan(s), including the ICRC and other Movement partners' contributions into it/them.
Ensuring that the 2022 ICRC-funded URCS Covid-19 vaccination roll-out activities are efficiently implemented and reported, and well-coordinated with the efforts of other Movement partners.
Maintains as required regular operational contacts with all URCS structures involved in the implementation of joint projects/programs, including undertaking trips to the field to prepare and attend joint assessments and/or contribute to capacity-building activities.
Contributes to enhancing coordination among Movement partners, including by liaising and ensuring exchange of information with the other Movement partners present/active in Ukraine.
For the relevant aspects of the ICRC-URCS partnership, ensures that the URCS provides operational and financial reports on a regular basis and according to established formats and procedures.
Contributes to institutional reporting for which an input from the Cooperation department is needed.
Actively participate in the life and reflection of the Cooperation Team in Ukraine.
Undertakes any other activities as may be attributed following redistribution of tasks among the Coop team members (eg checking URCS financial reporting, TS management, briefings, operational reports, etc.)
The tasks and responsibilities defined above are not exhaustive and can evolve depending on organizational needs.
POSITION REQUIREMENTS
Minimum required knowledge & experience
University degree or equivalent experience;
2 years work experience in similar field of activity
Excellent knowledge of spoken English
advanced computer knowledge
Good knowledge of the geographically assigned environment
Negotiation skills
Capacity to adhere to ICRC procedures
Personal Competencies

Genuine interest to work for the humanitarian sector;
High level of motivation, commitment to accuracy;
Ability to demonstrate flexibility and taking initiatives;
Excellent communication and interpersonal skills;
strong sense of responsibility;
capacity to adhere to and to implement procedures;
Ability to work methodically with demonstrated analytical skills;
your profile
Genuine interest to work in humanitarian aid field;
Strong interpersonal skills and customer service attitude;
Strong sense of autonomy and responsibility;
good team player.
We offer a rewarding and enriching work in a humanitarian and international environment, and also:
Initial training and on-boarding organized
Opportunity to work and grow in an international working environment in the humanitarian sector
Good working condition and competitive salary with benefits
Starting date: ASAP
HOW TO APPLY
Please submit your CV, along with your motivation letter in English and salary expectations only to the attention of Human Resources Department:
Deadline for applications: 25/09/2022
Only candidates meeting the above-mentioned criteria will be considered and contacted for tests and/or interviews. No queries by phone please.
Join the ICRC. Visit us on http://www.icrc.org/
більше 500 співробітників
з 1863 року на ринку
Курси іноземної мови

Офіс у центрі

Медичне страхування

Регулярний перегляд зарплати

Офіційне працевлаштування згідно КЗпП України
Схожі вакансії по містах:
Схожі вакансії за професіями: