Ця вакансія вже завершена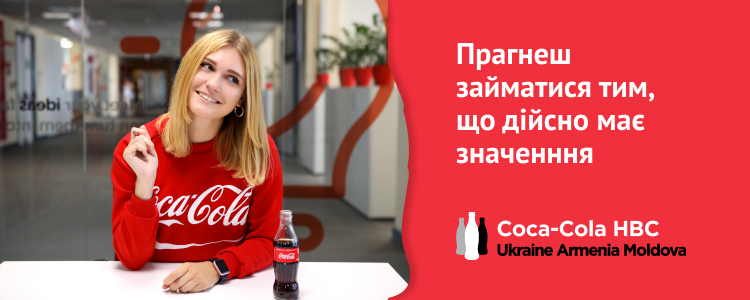 ABOUT YOUR NEW JOB:
You will have the chance to be a major influence in driving our world class business forward and delivering iconic beverages to customers and consumers that have tremendous relationships with our brands. You will benefit from a family-like environment filled with supportive colleagues that will help you overcome big challenges to reach places and results you never would have thought possible. No two days will be the same here. You will be challenged, you will be encouraged, and you will grow.
JOB TICKET:
Partners with Financial Business Partners & CFO to enhance management reporting, business drivers understanding and developing data storytelling;
Leads the financial planning and analysis agenda within the BU Ukraine, Armenia, and Moldova;
Responsible for the successful submission of robust business plans and rolling estimations of P&L, Cash Flow and Balance Sheet statements.
YOUR NEW KEY RESPONSIBILITIES:
Leads BP/RE processes coordination, data consolidation and submission in SAP system;
Works closely with key business partners to prepare insightful commentary on profit estimates with focus on true drivers of organisational performance and developing meaningful data storytelling;
Sets up a monthly reporting calendar. Plan – actual deviations are commented on their causes with the objective of preventing further deviations and agreeing on counter measures;
Supports budget holders during the planning process, but also challenges input by eliminating reserves and agreeing corrections on too ambitious/conservative plans;
Assures that the forecasting accuracy of business plans, revised estimates and long-term forecasts is high by creating an environment in which realistic plans are being developed;
Establishes a effective bottom-up planning process and develops a local planning calendar based on the group planning timetable allowing for sufficient review time and feedback cycles;
Supports budget holders during the planning process, but also challenges input by eliminating reserves and agreeing corrections on too ambitious/conservative plans. Makes sure that risks and opportunities are well balanced;
Measures and reviews the cost/benefit ratio of proposed activities;
Promotes continues processes improvement through implementation of modern dashboards, analytical and reporting tools;
Promotes efficiency to minimize time spent for report generation and increase time for analysis, commenting and insights sharing;
Day to day liaison with the HO Corporate FP&A team;
Maintaining the risk data, monitoring actions and being the local point of contact for risk advice and guidance;
Delivers monthly management dashboard for Country SLT.
ARE THESE YOUR SECRET INGREDIENTS?
University degree in Business Administration/Finance;
Strong leadership skills;
Highly analytical and skilled individually;
Ability to quickly identify and analyze risks & impacts and able to define alternatives;
Good communication and presentation skills;
Capable of communicating precisely, effectively and convincingly based on facts with internal and external stakeholders;
Flexible and team player;
Qualified accountant (ACA/ACCA/CIMA/CPA or equivalent) is an asset;
Fluent English;
MS Office – advanced user (Power BI/Pivot/Query – is an advantage);
Modelling skills and scenario analysis;
Relevant successful experience in Finance or related Finance sphere;
Ability to work under pressure and meet tight deadlines.
WE OFFER:
Meaningful work in a company that is a leader in the NARTD market;
Work in a smart and motivated team within a supportive and inclusive culture with strong values;
Competitive salary;
Compensations & benefits package, which includes: medical and life insurance, 31 calendar days of vacation per year, meal allowance, company product sampling;
Opportunity to develop as a professional;
Work remotely or from our office. We are located in Velyka Dymerka. Corporate buses are provided from metro stations Chernihivska and Lybidska, and also, from the city of Brovary and the settlements of Velyka Dymerka, Bohdanivka, Kalyta.
ABOUT YOUR NEW TEAM:
We are a family of over 36 thousand engaged people. Each and every one of us is the secret ingredient of Coca-Cola HBC – one of the world's largest bottlers and partner of The Coca-Cola Company. Our every day mission is to delight over 715 million consumers by offering a choice of over 100 iconic global and favorite local brands in the moments that matter, 24 hours a day, 7 days a week. We are a truly empowered and talented team that drives superior results by winning and learning every day in 29 countries, across 3 continents. Our success comes from us working together as one to make a positive difference for the local communities we serve.
Think you've got the secret ingredient?
Apply Now!
Coca-Cola HBC is an open opportunities employer. Your application will be reviewed based on professional qualifications required, with no regard to any other attribute (gender, age, race, disability, religion, national origin, sexual identity and others).

Ми – родина, яка налічує понад 1500 тисяч людей, які захоплюються своєю справою
більше 500 співробітників
з 2002 року на ринку
Розвозка

Медичне страхування

Корпоративний лікар/Медпункт

Бонуси та премії

Оплачуване стажування
Схожі вакансії по містах:
Схожі вакансії за професіями: